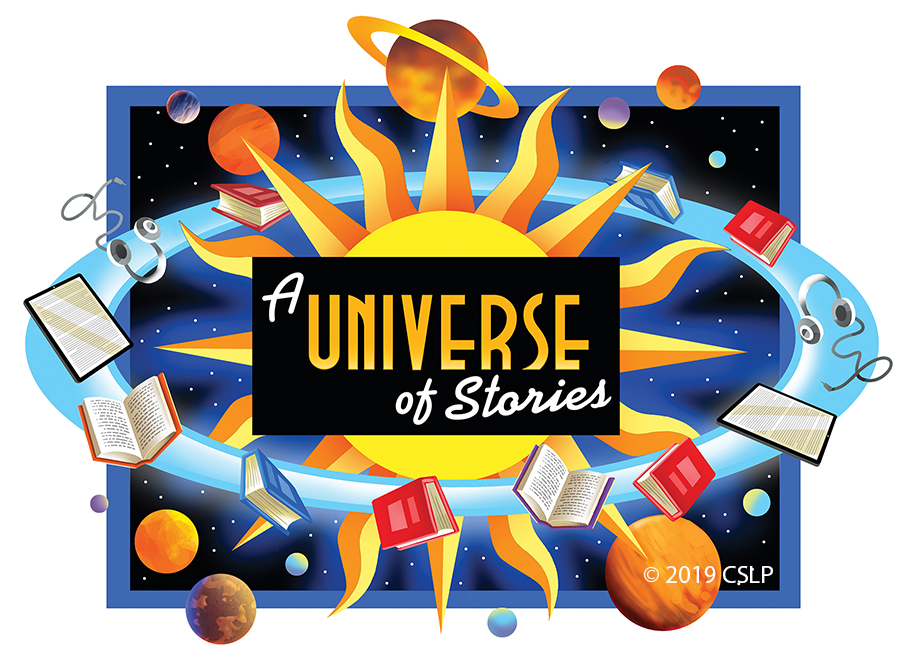 Summer Reading Program Schedule
Week 1: Race to the moon!
Wednesday July 3rd, 1 pm 
Free movie—Mune: Guardian of the Moon
Craft activity: Moon Phases Wreaths
Fiday, July 5th, 5 pm
Craft Activity: Design your own T-Shirt Graphic – Bring a Blank T-Shirt, any color , and we will print your design on iron-on transfer paper which we will apply at the library
Saturday, July 6th, 5 pm
Magic The Gathering Deck Building Night—We will help you build your MTG decks and try them out.
Week 2: Galactic Tails
Wednesday, July 10th, 1pm
Free Movie—Spark A Space Tail
Craft Activity: Draw a space traveling animal
Friday, July 12th, 5 pm
Craft Activity: Draw your own comic book pages
Week 3: Monsters or Aliens
Wednesday, July 17th, 1pm
Free Movie—Monsters vs. Aliens
Craft Activity: Create an alien or monster with paper plates and various other materials!
Week 4: Coding Week
Wednesday, July 24th, 1pm
Free Movie—Big Hero 6
Craft Activity: Make Paper rockets
Using toilet paper or paper towel rolls we will make our own rockets!
Friday, July 26th, 5pm
Learn coding! Learn computer code to 
create a website or video games.
Week 5: Legos!
Wednesday, July 31st, 1pm
Free Movie— Lego Marvel: Guardians of the Galaxy
Craft Activity for Wednesday, July 31st
Fun and useful Lego crafts with old Legos!
Friday, August 2nd, 5pm
Lego building races!
Saturday, August 3rd, 5pm
Magic the Gathering Deck building
Week 6: Star Wars!
Wednesday, August 7th, 1pm
Free Movie—Star Wars: Force Awakens
Craft Activity: Free Star Wars Activity Books
Friday, August 9th, 5 pm
Star Wars Activities
Week 7: The Universe-Constellations
Wednesday, August 14th, 1pm
Free Movie—A Wrinkle in Time
Craft Activity: Constellations!
Friday, August 16th, 5 pm
Craft Activity: Universe paintings
Week 8: End of Summer
Wednesday, August 21st, 1pm
Free Movie—The Dark Crystal
Craft Activity: 1 minute stop action animations
Friday, August 23rd, 5pm
Let's write your own stories!
August 27th—30th we ask that you turn in your reading records which you filled out through the summer with all of the wonderful books you read. 
Please write a paragraph on your reading record telling us about your favorite book you read, and you will receive a special prize.
All returned reading records will receive a prize, and extra prizes will be given out for the most books read in each category as follows; children ages 3—6, ages 7—12, ages 13—18, and adults.
We hope you all participate and have great stories to share with us about your reading adventures!
Saturday, August 31st, 5pm
Magic the Gathering competition to win great cards!